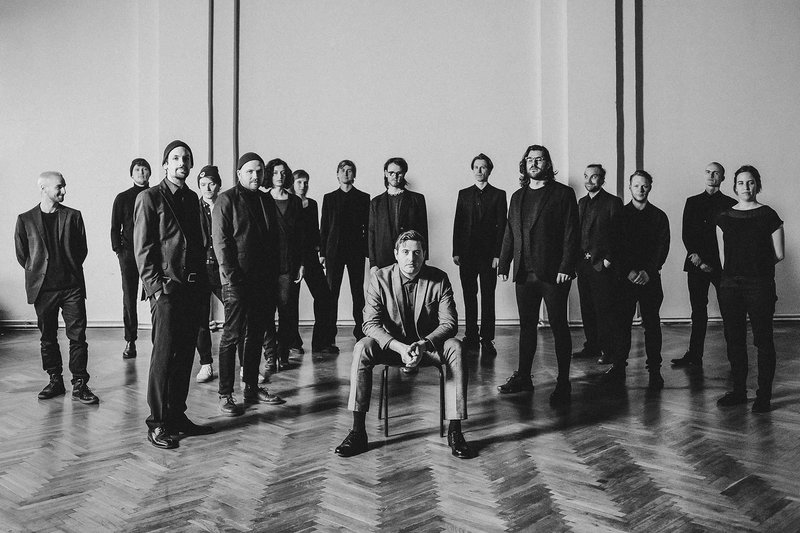 Sunday 26.11.2023 doors 20:00 start 21:00
Kantine am Berghain
IDEAL ORCHESTRA
Experimental orchestral music from Leipzig. Gellért Szabó conducts brute sound on Totensonntag.
Initially starting as an improvisation-focused chamber ensemble employing a unique toolset of hand-sign language, Leipzig based IDEAL ORCHESTRA quickly evolved into a platform for avant-garde orchestral music. With the constant addition of new compostions by Gellért Szabó the orchestras performances have become a synergy of conducted improvisations and meticulously crafted compositions. Audiences are taken on an unpredictable sonic voyage, seamlessly blending unexpected bursts of brutalist noisewalls with cinematic soundpaintings. Currently the orchestra comprises 23 musicians with a unique instrumentation, each one of them contributing to the ensemble's distinctive sound.
After the current album MONUMENT (Spotify/Bandcamp), the uncompromising expressivity of the IDEAL ORCHESTER is further developed through the synergy of romantic and violent sounds and presented on Totensonntag in the Berghain Kantine.
GELLÉRT SZABÓ (CONDUCTING/COMPOSITIONS), ALEJANDRO BARRIA (CEL), FRIEDERIKE BARTEL (SAX), MYRSINI BEKAKOU (V), FLOORTJE BELJON (V), NORA BENAMARA (VOC), REBECCA CHAMMAS (VOC), LORENZ BERGLER (BCL), MAXIMILIAN BISCHOFBERGER (VOC), JOHANNES BODE (DR), JOHANNES BUTTLAR (DR), STEPHAN DELLER (KB), GEORG DEMEL (POS), GUSTAV GEISSLER (SAX), BARNABAS HERRMANN (VOC), FELIX KOTHE (DR), CHRISTOPHER KUNZ (SAX), GREGOR LITTKE (POS), SIMON LUCACIU (P), PHILIPP REINSCH (TUBA), STEFFEN ROTH (DR), MARIETHERES SCHNEIDER (VOC), SUSANNE STOCK (ACC)